September 3, 2015, [MD]
Yesterday there was a Twitter discussion about adding a default mailer to Elixir Phoenix (Storify). I've never used the Ruby on Rails mailer, but I got inspired to share my experience with both sending and receiving emails in a recent project.
This summer, I ran a Phoenix server that provided interactive content for an EdX MOOC. One peculiarity of the setup was that authentication happened through the LTI connection with EdX, so there was no need for a sign-up/login form, confirmation of email addresses etc. However, we used email for a number of other purposes.
Sending email
To send email, you need an SMTP server. While Elixir is perfectly capable of handling this on its own, I had heard a lot of stories of how email from private domains might hit spam-filters, and be difficult to configure correctly, so we looked around for an external provider. Amazon Simple Email Service is a no-frills service with a great price-point (currently 0.10$ per 1000 emails). It might not have all the bells and whistles of services like Mailgun and Sendgrid, but for our purposes it worked great.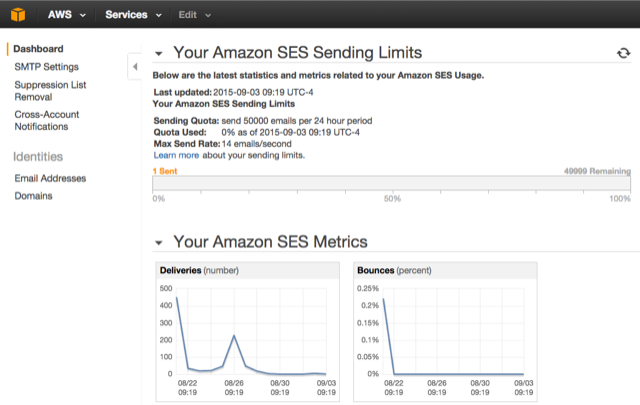 Amazon SES has a web API, but the easiest way to use it is simply to configure it as an outgoing SMTP server. Looking around, I found the Mailman library, which was easy enough to configure (my code). You simply define a struct like this (storing credentials in a config file):
---