March 11, 2014, [MD]
I got my introduction to functional programming through Clojure, but lately I've been really fascinated by Haskell. I gave up on it a few times, because it can seem quite impenetrable, and very different from anything that I'm used to. But there is something about the elegance, and powerful ideas that keeps me coming back. I've read a bunch of tutorials and papers, followed blog posts, and experimented a bit with ghci and IHaskell, but I never really got off the starting block with writing my own Haskell.
How to get practice?
The projects I'm currently working on in Python are too complex and urgent for me to try to implement them in Haskell at this point, and because Haskell is so different, I found myself stymied doing even simple things, even though I'd just finished reading a complex CS paper about monads. I needed some structured tasks that were not too hard, and that gave me good feedback on how to improve.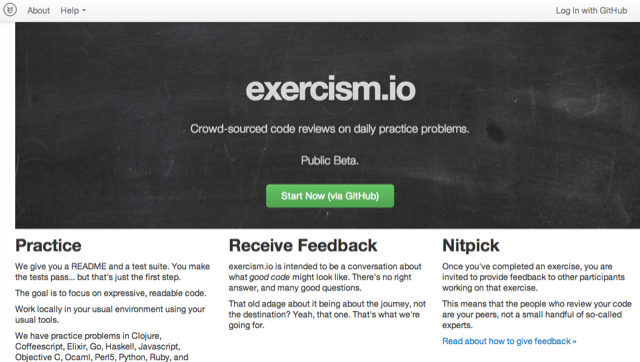 Listening to the Functional Geekery podcast, I heard about exercism.io, which provides exercises for many popular languages. There are several similar websites in existence, perhaps the most well known is Project Euler, however that focuses too much on CS/math-type problems, and is perhaps better for learning algorithms than a particular language. The way exercism.io works, is that you install it as a command line application. The first time you run it, it downloads the first exercise for a number of languages.
---