August 26, 2015, [MD]
This summer, I ran a Phoenix server that provided interactive content for an EdX MOOC. Given the geographical distribution of students, the server was getting hit 24/7, and I wanted a quick way to get notified about any error messages. Elixir comes with a built-in logging framework that has several levels of logging (debug, info, warn, error). Any processes crashing will emit error logs, and you can also emit them manually from your own code.
The stock logger only comes with a console backend. I ran the server through Ubuntu's upstart system with a very simple configuration script, which simply set some environment variables and paths, and then used PORT=4000 MIX_ENV=prod mix phoenix.server (I used Nginx to proxy the local port, and add SSL). I used mosh and tmux to keep a persistent connection, and tail -f to watch the upstart log. On the screenshot below, I had several panes tracking both the access log (using plug_accesslog), the Phoenix log, and also a grep on error to see the latest error messages.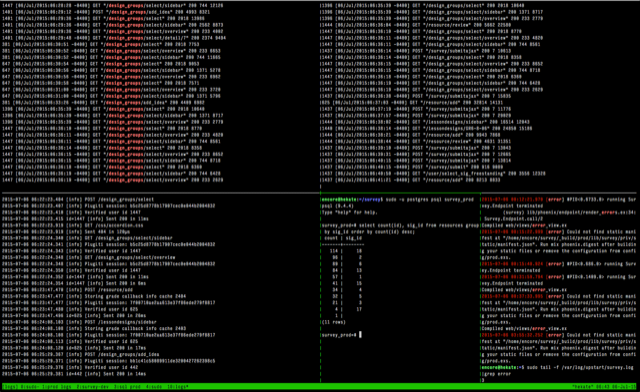 Due to BEAM (the Erlang virtual machine) and OTP, Phoenix is remarkably stable. The only time the whole server went down would be because of a serious issue in the datacenter rendering the entire virtual machine inaccessible. Errors were typically bugs that would occur given a certain edge case (for example trying to render the group of a user who had not selected a group yet). They would crash the connection of the user who hit that edge case, but would not propagate up the stack. Thus it would be quite possible for an error to occur and not be noticed, since everything else would continue happily running.
---